Why is "Amara Clinic" the Popular Liposuction Clinic in Thailand?
Standard operating room,
positive pressure system.
Sterile 99.97%
(Operating room at Amara Clinic)
No.1 of Liposuction Clinic
has many guaranteed awards
(Both in Thailand and Asia)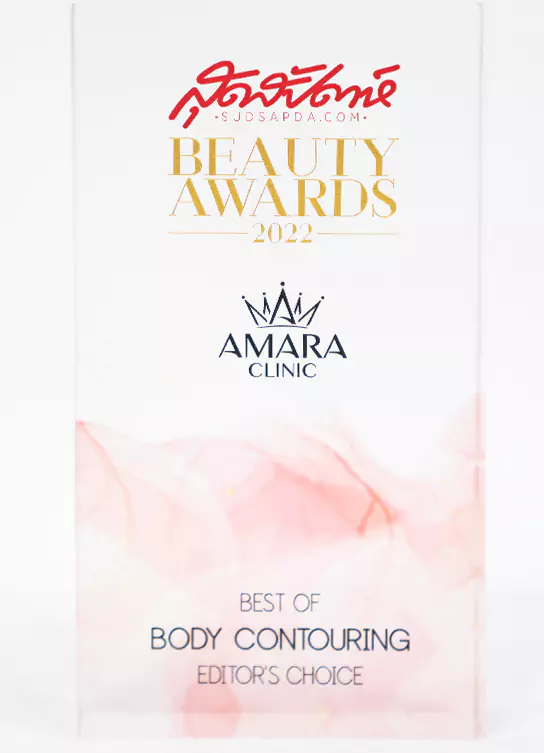 An example of awards that Amara has received. We service liposuction in Thailand and fat filling specifically. Up to now, we have had many beautiful results and safety cases. Therefore Amara Clinic has the most liposuction cases in Thailand. It's made us get the trust of many patients. Including manufacturers of medical devices. In addition, there are many reasons why many people choose liposuction and fat grafting at Amara Clinic.
1. The doctor has expertise and experience in liposuction
Over 95% of the services of Amara Clinic are cases of liposuction-fat filling. Amara's doctors, nurses, staff, and sales meet and consult liposuction patients daily. As a result, it makes our team master liposuction-fat filling. Highly experienced encourage outstanding work and high safety. And help us know what is most suitable for each patient case. So we receive the overwhelming trust of patients.
Amara Clinic has been appointed Body-Jet Education Center in Thailand. Dr. Ice and Dr. Maprang are KOL Trainers who teach liposuction and fat filling to be stationed Body-jet machines in Thailand.
The medical team graduated directly from The Basic Liposuction and Advanced Liposuction courses in Korea. And we applied the techniques from Korea. Therefore, it has become a signature technique at Amara Clinic. Our technique makes beautiful outcomes be proportional and highly natural. That no one can imitate.
2. Have many liposuction machines
Nowadays there are many types of liposuction machines. All tools have their pros and cons, and to suit the nature of different cases, Amara Clinic has a lot of liposuction machines. And a variety of shaping tools to help all patient problems. We choose only the truly effective tools. Certified to meet standards are the latest innovation, and modern, and get great results.
Water Jet Assisted Liposuction
Body-jet  is a liposuction machine that uses water power to gently break apart fat cells. So it reduces pain between liposuction. It takes a short time to get better after liposuction which results in quality fat cells. Moreover, fat can be used to fill other parts of the body and face, such as baby face fat, breast fat filling, butt-lift, hand fat filling, vagina fat filling, etc. It makes patients look younger and better.
Ultrasound Assisted Liposuction 
This type of liposuction machines are classified in the thermal power group. Therefore it's suitable for cases that require liposuction. Amara Clinic has two machines: Vaser Smooth 2.2 from the United States of America and Ultra Z from South Korea.
Power Assisted Liposuction
MicroAire PAL is a power-assisted liposuction (PAL) system with vibrational cannulas (small tubes gently break fat cells and remove fat). Suitable for liposuction in small body areas such as the back, neck, upper abdomen, etc. 
Just good liposuction machines are not enough, but the doctor must know to use liposuction machines inside out. And have experience in using machines until proficient. As a result, doctors can choose to use appropriate equipment. And make the results come out as satisfying as possible.
So the doctor's Amara team has a lot of experience using all kinds of machines. And these strengths support us to get the most out of the machine's performance. Our liposuction- the fat filling result looks beautiful. High safety and had fewer side effects.
3. Using J Plasma to help skin tightening
J Plasma is a special tool that helps to instantly lift and tighten skin after liposuction. It's the tool that makes tightening skin efficient with seeing results most in the world. Equivalent to results after abdominal surgery up to 80%. It uses Radio frequency (RF) and Helium Plasma to generate heat energy, making the skin shrink immediately. Skin that used to be sagging or rumpled will firm up without having to open a big wound. It can be done in conjunction with liposuction.
4. Amara signature techniques
Amara's doctors have special liposuction techniques. To make the most beautiful outcome. Every case of Amara Clinic looks unique because we use Art & Science skills to design the shape of each patient. Every case that has liposuction-fat grafting with us. They will have different treatment plans, the doctor will have a careful evaluation. Choose the right tools and techniques, and have the right amount of fat liposuction. Does not suction too much or too little to have the least side effects. An example of our signature case is as follows:
Sexy line HiDef 4D 360°
This liposuction technique helps to make the belly flat. Sharpen the waist to be an S Curve, and shape the Sexy Line to have a beautiful dimension and natural look.
Hourglass body shape
Small waist, large hips, like American female style, with liposuction to be S waist perfect. And add fat around the butt to make an hourglass shape.
Real legs technique
This liposuction technique helps to reduce leg squeeze. Get clear of the outer leg fat, then sharpen the legs to a beautiful shape. By gradual slenderness from top to bottom.
Real arms technique
Arm Liposuction reduces the problem of bloated upper arms, looking plump. And making the arms slender and firm. As a result, the body looks slimmer than before.
5. Standard operating room
Our operating room is a Cleanroom with a complete system, highly sterile, and real standards. Equivalent to operating rooms in private hospitals. Help to support the surgery as smoothly as possible, less likely to be infected, and have high security can support in every situation. The operating room at Amara Clinic consists of the following systems:
Positive Pressure system – The positive pressure system puts the OR under positive pressure. Or higher pressure than the air outside the operating room, causing germs and outside air not able to get into the operating room.

Laminar Air Flow – The Laminar Air Flow system controls the air in the operating room flowing from top to bottom. Clean air flows into the dirty air and is gradually cleared out of the operating room.

HEPA Filter (High Efficiency Particulate Air Filter) – HEPA Filter for catching dust as small as 0.3 microns, preventing them from entering the operating room. Makes the air, sterile up to 99.97%

Emergency Power Systems – In case of sudden power outage or failure, our emergency power supply system can power immediately for 2 hours. Helps to avoid interruption of surgery and prevent the patient from being at risk

Pipeline Systems – The pipeline system or the international safe life system is a gas system. To prevent the patient from getting too much oxygen until it is toxic to the body. It consists of oxygen, nitrous oxide (anesthesia gas), and fresh air.

Scavenging System – Scavenging system for venting anesthetic gas out of the operating room. To keep the O.R.s from getting too much gas. It can also prevent gas leakage as well.
We also have other important tools and equipment in the O.R. Whether it's the best anesthesia machine, vital signs monitor, FLIR Scan camera, emergency medicine, hermetically sealed door, rose gold special glass wall. And the use of compact laminate materials to build walls, ceilings, floors, ceilings of operating rooms, etc.
6. Anesthesia by an anesthetist (1 per 1)
Liposuction-fat grafting at Amara Clinic can be performed both with general anesthesia. And anesthesia by a 1:1 anesthetist (1 patient: anesthetist) based on patient needs and physician assessment. For safety, an anesthesiologist will check the availability of the body before surgery, and monitor the surgical market symptoms. And make the patient safe.
7. Best craftsmanship, outstanding, have prizes guaranteed
Amara Clinic has gained a lot of trust. Both patients and medical device companies. Make us have a lot of work. It also comes out beautiful and outstanding as well. This made us receive the award as being number 1 in Thailand and Asia. This guaranteed Amara clinic is an expert in liposuction – fat filling.
Prime Leader of Body-jet Liposuction in Thailand 2021 & The Most Body-jet Users 2018 – 2022

No.1 in Asia of Procedures Done in 2020 – 2022

Leading Aesthetic of Venus Legacy RF Body Contouring in Thailand 2021
After liposuction, aftercare services are very important. Not allergic to liposuction at all. Because good results will come from After Care up to 30%. Amara Clinic cares and attaches to this matter. Whether it's choosing efficient tools, modern technology, standard, really good results, and full service. (Visit Amara Clinic liposuction in Thailand, the only place to finish both liposuctions and aftercare) We are pleased to take care of patients. And choose the most suitable tool for each case for the best results.
There are many types of After Care tools and many grades, such as RF massage. Reaches from thousands to millions. (Amara Clinic uses the Venus Legacy machine, the price is millions) Thermatight has many models and different power levels. Shapewear is available in several grades. The grade of the flexibility of the material that makes the skin firmer is not the same, the result is different. But you can trust it! Amara Clinic always selects the most highly for our patients! Such as
Recovery room after surgery with patient monitor, warm air blankets, life support equipment, intermittent pneumatic compression device, meals, and nurses.

RF massage helps skin tighten fast and body fit more by using the Venus Legacy. It's the best RF machine in the world.

Shapewear full stocked! There are many types to choose from. There are all proportions, all sizes are available. You can choose according to your needs!

Red LED light to reduce swelling, reduce sore inflammation, recover cells, and stimulate collagen.

Massage to dissolve hard lumps or renal lumps under the skin with Thermatight to smooth and dissolve hard lumps. Reveals smooth, firm skin without waves.

The laser reduces scars to disappear with Pico Laser (black scars) and IPL (red scars). In addition, wound healing services are available at the clinic every day. Including silk cutting and there is also a set of equipment for doing home injuries.

Medicines before and after liposuction (medications to reduce swelling, anti-inflammatories, analgesics, disinfectants). There is a theme to preventing scars. And there are injections to reduce keloid scars as well.

Self-care guide after liposuction with many special discounts!
The medical team and after-sales care team are ready to give advice 24 hours a day via the clinic's special LINE channel! (The doctor answered by himself) contact here LINE: @amaraclinic (liposuction in Thailand)
9. Have the most reviews in Thailand
Liposuction review or fat grafting review is very important. Because reviews will show the skill and outcome of Amara's doctor work. We think liposuction is like a work of art. That doctors must use knowledge and experience to create works. You can choose to view reviews based on your interest combination. (Recommend looking at cases that are similar in shape to you. And liposuction in the same position will know how much after liposuction will come out) 
We have the most reviews of liposuction in Thailand. We receive a lot of awards, which have reviews in all proportions. Whether it's the abdomen, S-waist, Sexy Line, upper arms, thighs, back wings, back, etc., And reviews for fat grafting are available to watch in every position (chest, backhand, vagina, buttocks, faces, etc.) Moreover, I have both big and small cases. Very young Women and men, we have them all!
For the format of the review, We don't have only images. We also have a live broadcast at once after the surgery is done. And video interviews with the impression of patients after liposuction as well.
Amara Clinic is managed by a doctor. (Dr. Ice and Dr. Maprang) are not business people who invest and hire doctors to operate, so you can be confident that you will get the best for sure. We focus on the results after the therapy that actually sees results. Can actually solve the problems of each patient and make the shape come out beautiful. Most suitable for each case for the patient to be confident after receiving services at Amara Clinic. 
We are not a cheap liposuction clinic. But it's not an expensive clinic either. Our liposuction-fat grafting prices are moderate. It's appropriate for what the patient will receive and the promotion is very worth it. We count liposuction as the area. It is not counted as a small point or counted from the palm, for example. 
Liposuction of both upper arms

Abdominal liposuction upper + lower

S waist liposuction + rear wing

Inner thigh liposuction + front thigh

Outer thigh liposuction + posterior thigh and some hips

Liposuction of both calves
The price of liposuction starts at 25,000 baht per area. This depends on the device used, the size of the patient' body, the amount of fat, and the method of pain relief chosen (2 liposuction areas, get After Care service and full free gifts, very worthwhile!)
Amara Clinic liposuction in Thailand. Guaranteed outcome in every case for 6 months if the patient has liposuction. It was found that there was still fat left. Or the doctor can't absorb the fat completely. Causing the fat layer to be uneven. We are happy to resolve this for free.
11. Two branches in Bangkok
Amara Clinic Branch 1 –
Ratchayothin
📞 062-946-2397
🕛 Open 10.00 – 20.00 (closed Wednesday)
📌 On the main road (Near Major Ratchayothin)
📌 Travel by BTS to Ratchayothin Station.
📌 You can park your car at Sena Center.
Map Ratchayothin
Amara Clinic Branch 2 –
Ratchaphruek
📞 062-556-6623
🕛 Open 10.00 – 20.00 (closed Wednesday)
📌 Near the main road (same side as The Crystal SB Ratchapruek)
📌 Parking in front of the clinic.

Map Ratchaphruek